On May 25th, college of Overseas Education organized more than 20 international students from Zimbabwe, Ghana, Pakistan, Ukraine, Bangladesh and other countries to carry out practical activities in the sericulture Research base of Sericulture Research Institute of Chinese Academy of Agricultural Sciences.
On the base of the silkworm rearing room, deputy researcher zhang yuehua took telling students about the modernized silkworm breeding and mulberry planting stereo cycle agriculture development present situation, then introduced the genetic breeding of mulberry silkworm, silkworm germplasm resources preservation, sericulture technology in domestic and southeast Asia, Africa and other places of the promotion, the Chinese silkworm the whole industrial chain of agriculture, And all kinds of achievements obtained after the combination of production, learning and research in our school. The visit broke the students' knowledge of traditional agriculture and deepened their understanding of Chinese agricultural science and technology as well as modern industrial technology. Afterwards, the overseas students once again felt the charm of sericulture agriculture during their close visit to the national sericulture resource nursery and mulberry picking experience.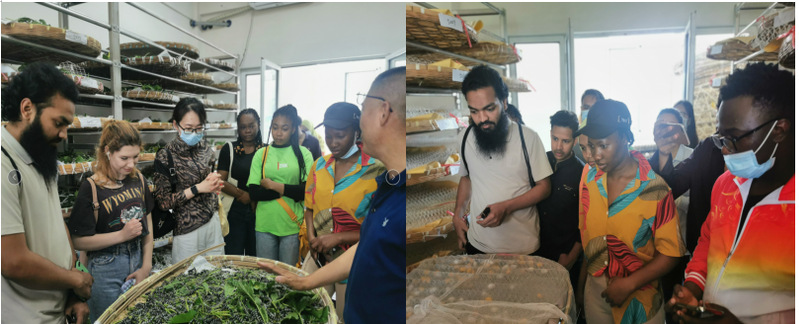 After the visit, the students all said that the visit had gained a lot, and they also re-realized the infinite business opportunities in modern agriculture. After graduation, they would put what they learned in JIANGust into practice, and make their own contribution to promoting the international cooperation of sericulture industry between China and the home country.